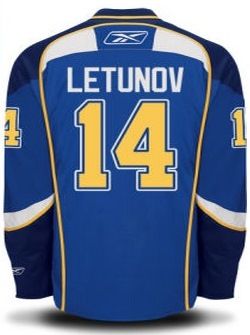 With the 52nd pick in the 2014 NHL Entry Draft, the St. Louis Blues are pleased to select center Maxim Letunov of the Youngstown Phantoms in the United States Hockey League.
The 6' 2, 155-pound native of Moscow has a verbal commitment to attend Boston University in 2015-16, and will return to Youngstown for another USHL go-round in 2014-15. Per ISS American Scout Adam Mattson, Letunov "(h)as offensive instincts and can be an effective set-up man woth some finishing ability. Once he fills out into his body, he will be a load to handle."
Maxim LETUNOV
RANKINGS
Position
Center
Future Considerations
139
Shoots
Right
Hockey Prospect Black Book
51
Height
6' 02.25"
Int'l Scouting Services
97
Weight
155 lbs
CSS Prelim
USHL C
Born
Feb. 20, 1996
CSS Midterm
68 N Am
Where
Moscow, Russia
CSS Final
87 N Am
SEASON
CLUB
GP
GL
AS
PT
+-
PM
PP
SH
GW
2013-14
Youngstown (USHL)
60
19
24
43
-17
42
8
0
1
2012-13
Dallas Stars U16 (USMMAAA)
40
29
37
66
0
6
0
0
0
SCOUTING REPORT
"Future Considerations" 2014 NHL Draft Guide
SCOUTING REPORT: Letunov came a long way this season, improving gradually as the season progressed. Letunov is a lanky center who needs to still grow into his body. He lacks strength and will be pushed off the puck easily by bigger opponents. Once he adds some muscle, he will become a very dangerous player as he has the skill to put up numbers at the pro level ... Letunov is nifty with quick hands, an explosive shot and strong passing skills. He handles the passes well, but needs to build strength to be more effective against bigger defenders. At times this season, Letunov could be seen taking advantage of easier defensive targets and driving the net from an outside lane. He likes to attempt power moves, and will be more successful at doing so once he adds a good 20 to 30 pounds ... Letunov has good stick skills and creativity, and he likes to open space with a quick toe drag before firing off a quick, heavy wrister or before setting up a teammate with a crisp feed off the rush. He sees the ice very well and has a strong awareness for his teammates. He works hard to get the puck off his stick ... Letunov doesn't make a huge issue of going into the corners, but again, added muscle is a must. Letunov's skating and defensive play are two areas of his game that seem to have progressed during the year. He isn't the greatest of skaters, but there were improvements made. He is more balanced on his skates, but needs to improve his foot quickness and his first few steps ... Defensively, Letunov has shown more understanding and his defensive effort in February was much stronger than it was in September. He still has a few learning years left before making the leap to the pros. NHL POTENTIAL: Top-Six Playmaking Center.
SCOUTING REPORT
"Hockey Prospect" 2014 NHL Draft Black Book
Drafted by Youngstown in the second round of the 2013 USHL Entry Draft out of the Dallas Stars U16 program, the Russian-born centerman is committed to Boston University but is slated to return to Youngstown this fall after an excellent rookie USHL season ... After putting up 43 points in 60 games during his rookie campaign, offensive skill is an obvious observation when watching Maxim play. He has slick hands and an excellent wrist shot to match. It's released quick, high velocity, and accurate. Equally impressive is his passing ability. His passes are always crisp, on the money, and he makes some many others are simply not capable of as a result of his excellent vision and awareness of his surroundings. Maxim seems to always know where everyone on the ice is at all times when he is out there and that combined with his high offensive skill make him a bear to defend. He is surprisingly adept at using his body to protect the puck given his slight build, but he still does get pushed around at times by defenders. The effort is always there, he never shies away from a hit or a battle for the puck, and he has some grit to his game but sometimes he simply is overmatched physically. He is tall but is very thin and lanky, and will need to improve his size and strength going forward ... Also resulting from his lanky build is a need to improve his mobility. He could stand to improve his foot speed and overall mobility. With all of that said, he still has the ability to be flashy offensively and he has good speed despite it not looking overly pretty. His stride is deceptive, it makes him look slower than he is, and many times this lulls defenders into false angle and approaches and while his foot speed could use some improving, he has enough there to turn it on in those moments and go right around those defenders. His ability to gain offensive zone entry is excellent, and comes in handy on the power play in which he is a major fixture. Conversely, he is an excellent defensive forward. You can lose count how many times he pick-pockets a player from behind and starts a rush going back the other way. That doesn't happen without hard backchecking, which he does all of the time. Maxim never takes a shift off, and his defensive effort and awareness are every bit as a good as his offensive abilities ... High end offensive skill, high hockey IQ, strong defensively, high compete level, and a frame to improve and build; Maxim has a lot of tools that can make him an excellent NHL'er, but will need some time at the college level to further develop.
SCOUTING REPORT
International Scouting Services 2014 NHL Draft Guide
Size/Strength
Good
Strengths
Skating
Good
1. Offensive awareness.
Puck Skills
Very Good
2. Puck skills.
Shot
Good
3. Very good hockey sense.
Offensive Play
Very Good
Weaknesses
Defensive Play
Below Average
1. Needs to bulk up.
Physical Play
Average
2. Defensive zone play.
Competitiveness
Good
Hockey Sense
Very Good
SKILL: Lacks explosiveness in his skating, needs work defensively. SCOUTING REPORT: Deceptive play-making pivot with excellent puck poise and passing abilities. Solid stick handling and puck skills. Made some shifty moves around the defense. Sometimes tried too many moves and had a few turnovers. Excellent chemistry with two linemates on the #1 line. Offensive awareness and cycling skills were very good. Solid on face-offs but has a tendency to stand too tall and try to hit the puck quick off the draw. Great 6-2 stature but needs to add bulk to his 155 lbs frame. Good touch around the net and has a good quick shot release. Has verbal to Boston University for 2015-16. NHL POTENTIAL: Crafty center with offensive skills to play in a top-six role.