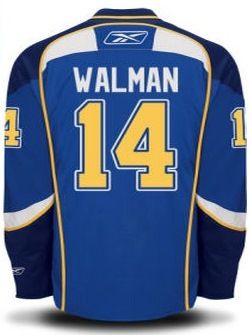 With the 82nd pick in the 2014 NHL Entry Draft, the St. Louis Blues are pleased to select defenseman Jake Walman of the Toronto Junior Canadians in the Ontario Junior "A" Hockey League.
The left-shooting Toronto native will be attending Providence College for the 2014-15 season. Walman, a 6' 1, 170-pound blueliner, has what ISS scout Chris Mooring calls a "high panic point," and "(c)onsistently (makes) smart decisions with the puck and is patient leading the breakout." Mooring notes that Walman has "less than ideal size" for an NHL defenseman, but still feels that Walman could be a steal in this draft.
Jake WALMAN
RANKINGS
Position
Defenseman
Future Considerations
71
Shoots
Right
Hockey Prospect Black Book
55
Height
6' 00.50"
Int'l Scouting Services
64
Weight
170 lbs
CSS Prelim
N/R
Born
Feb. 20, 1996
CSS Midterm
60 N Am
Where
Toronto, Ontario
CSS Final
47 N Am
SEASON
CLUB
GP
GL
AS
PT
+-
PM
PP
SH
GW
2013-14
Toronto Jr. Canadians (OJHL)
43
7
26
33
0
87
2
0
1
SCOUTING REPORT
"Future Considerations" 2014 NHL Draft Guide
SCOUTING REPORT: Walman is an extremely fluid skater with great poise and puck skills. A very quick first step and excellent recovery speed. Is agile and quick on his feet, transitioning the puck up ice constantly. He always makes the best play on the breakout, seeing lanes opening up and shifting defensive coverage with his excellent vision. Makes a strong first pass and shows flashes of creativity as a playmaker. Has a very nice shot that is hard and accurate, a real weapon on the point. His shot will only get stronger as he gains weight. He can try to get too fancy at times, and that can get him in trouble as simple is often the answer at this level of play. He's not a big guy, but he throws his weight around on the boards and the puck never seems to be in his end for long when he's on the ice. He is hard to hit for forecheckers because of his quickness in moving the puck, fleet feet and impressive vision. Desperately needs to gain some muscle and will have time to do so this summer before heading off to Providence. NHL POTENTIAL: Top Six Two-Way Defenseman .
SCOUTING REPORT
"Hockey Prospect" 2014 NHL Draft Black Book
Walman is an elite skilled defender from the Toronto Junior Canadiens. Jake is currently committed to play NCAA hockey at Providence College. He shows poise with the puck in all areas of the ice especially when being pressured in the defensive zone. Jake has the skating ability to skate himself out of trouble while also leading the offensive rush whenever he gets the opportunity. He makes hard crisp passes and is constantly looking to jump into the rush as the high trailer. He has a very smooth skating stride and almost makes it look effortless at times to step around the opposition ... Jake also displays a heavy shot from the blue line and is good at walking to the middle of the ice to open up shooting lanes and get shots through traffic. He is the power play quarterback and shows good vision and understanding of puck movement in the offensive zone. He can sometimes appear a little to nonchalant in the defensive zone which allows aggressive attackers to force him into bad reads. While his passes are hard he sometimes struggles with accuracy and needs to work at hitting his teammates in stride ... While very offensive, Walman is also not afraid to get dirty and does not back down from anyone in the defensive zone and in front of the net. He actively uses his stick to dish punishment to opponents that attempt to set up in front of him. Walman would benefit from adding some weight to his frame in order to help physically down low against bigger players at the next level ... Walman had an extremely impressive season in the Ontario Junior Hockey League; he has all the tools to be successful at the next level whether it be the OHL or the NCAA. He should look to hear his name in the early-to-mid rounds at the upcoming draft. QUOTABLE: "We got good feedback from his interviews at the combine. Teams told me he was up front and very honest. He got better with every one of our viewings this season." -- Mark Edwards, Director of Scouting, Hockey Prospect.com.
SCOUTING REPORT
International Scouting Services 2014 NHL Draft Guide
Size/Strength
Average
Strengths
Skating
Very Good
1. Raw, projectable frame and skill set.
Puck Skills
Very Good
2. Skating ability.
Shot
Good
3. Great shot and offensive ability.
Offensive Play
Very Good
Weaknesses
Defensive Play
Good
1. Learning the defense position.
Physical Play
Good
2. Size and strength.
Competitiveness
Excellent
Hockey Sense
Very Good
SKILL: Freewheeling skater with raw skillset. Offensive-minded defenceman with defensive upside. SCOUTING REPORT: Seemingly coming out of nowhere to appear on scout's radars, Jake had an excellent season which saw him have his coming-out party with Team Canada East. He captured numerous awards including OJHL Top Prospect, and both CJHL and OJHL Rookie-of-the-Year. Utilizes his raw, lanky frame and wingspan to limit chances in his own zone while enjoying rushing the puck. A true competitor that loves to be targeted as it raises his game and intensity. Tremendous offensive upside, great shot and very good with the man advantage. Plays with a physical edge and possesses good puck skills. Sees the ice very well but needs to improve his puck moving ability by not trying to do everything himself. NHL POTENTIAL: Raw potential to be a versatile top 4 two-way defender who can play in all situations.