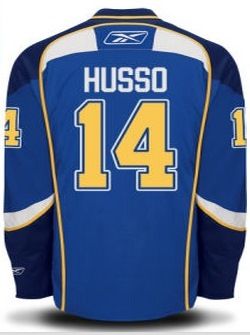 With the 94th pick in the 2014 NHL Entry Draft, the St. Louis Blues are pleased to select goaltender Ville Husso of HIFK Helsinki in the Liiga, or Finnish Elite League.
The 6' 3, 205-pound Helsinki native went undrafted in 2013, but used that as a motivator to post outstanding numbers in the Liiga this season. ISS European Scout Steve Cocker notes that Husso "developed into one of the better goalies in the SM-Liiga" this season, and further notes that Husso represents a "(s)trong package with size, fluid movement and veteran composure."
Ville HUSSO
RANKINGS
Position
Goaltender
Future Considerations
105
Catches
Left
Hockey Prospect Black Book
94
Height
6' 03.00"
Int'l Scouting Services
5 Goal
Weight
205 lbs
CSS Prelim
FIN Pro C
Born
Feb. 6, 1995
CSS Midterm
1 Eur G
Where
Helsinki, Finland
CSS Final
1 Eur G
SEASON
CLUB
GP
MN
GA
SA
AVG
REC
SO
SV%
2013-14
HIFK (Liiga)
41
2625
78
1018
1.99
19-14-5
2
.923
Finland (WJC U-20)
2
90
7
48
4.68
0-1-0
0
.854
2012-13
HIFK U20 (Nuorten SM-Liiga)
41
2459
108
1191
2.64
24-17-0
7
.909
SCOUTING REPORT
"Future Considerations" 2014 NHL Draft Guide
SCOUTING REPORT: Husso is very big at 6-foot-2 and thus covers a lot of the net naturally. He's also very quick and has great agility.Calm in net, stopping all the pucks you can ask him to. Working with minimal movements, the way it should be done, and never flailing around with his arms or legs, but just staying square. Not great quickness, but adequate, and is able to move fluidly in the crease both while on his feet and while in the butterfly. Shows excellent puck-handling abilities, even under pressure. Tends to look a little robotic in net at times. Husso sees shots through traffic very well and looks way more focused than he did last season. Husso's glove hand is solid as he can make a flashy save, robbing shooters of a high goal. Really impressed all season with his strong, consistent play in Finland's top men's league, the Liiga. NHL POTENTIAL: Starting Goaltender.
SCOUTING REPORT
"Hockey Prospect" 2014 NHL Draft Black Book
Husso was not selected in last year's NHL draft despite being ranked 6th in Europe by Central Scouting, but had a great year in 2013-14 playing in Finland's top men's league with HIFK. Husso appeared in 41 games and had 1.99 goals-against average and a 92.3 save percentage. He also played for his national team at the World Junior Championship as a backup to Juuse Saros ... Husso is a big goaltender who covers his net very well due to his size but also because of his quickness. He's very calm in his crease and doesn't make unnecessary movements. He can track the puck very well even with traffic in front of him, and has a strong glove. He controls his rebounds well using the classic butterfly technique ... Needs to be a little more patient in his net and let the shooter make the first move instead of committing earlier. There were concerns with him last year that caused him to go undrafted, but it's fair to say he responded well with a big season playing against men in Finland.
SCOUTING REPORT
International Scouting Services 2014 NHL Draft Guide
Size/Strength
Very Good
Blocker
Average
Quickness/Footspeed
Very Good
Lateral Movement
Very Good
Rebound Control
Good
Focus/Concentration
Good
Recovery
Good
Positioning/Poise
Very Good
Balance/Control
Very Good
Stick Use
Good
Glove
Average
Puckhandling Skill
Average
SCOUTING REPORT: Husso has taken a big role this season with HIFK in the SM-Liiga where he carried the load between the pipes. Undrafted last year, he possesses a good frame with great lower net coverage, very tough to beat him on the lower half of the net. Stays patient on the developing play and maintains good form to outwait shooters. Good quickness for size and battles well in the crease. Doesn't challenge as well as he could and would benefit from being more aggressive in his positioning. Puckhandling and confidence outside of his crease is an area of focus as he is hesitant getting out and stopping pucks to help his defenders. Technical skills are a work in progress and he has seen great progress throughout this season as he developed into one of the better younger goaltenders in the SM-Liiga. NHL POTENTIAL: Husso is a big frame, butterfly goaltender who shows good patience, lateral movement and lower net coverage. Potential to be an everyday NHL starter.