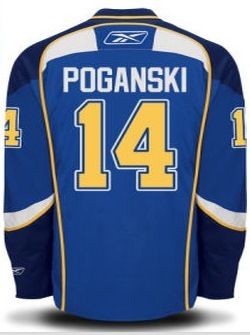 With the 110th pick in the 2014 NHL Entry Draft, the St. Louis Blues are pleased to select right wing Austin Poganski of the Tri-City Storm in the United States Junior Hockey League.
The scouting reports and evaluations of potential on the 6' 1, 198-pound Minnesotan are all over the place, but one thing all the scouts agree upon is that Poganski would be best served by developing more consistency in his effort, and in his overall game. He is committed to North Dakota for 2014-15, and the UND program has been pretty successful in developing NHL players -- Jonathan Toews and T.J. Oshie, to name but two -- over the last decade or so.
Austin POGANSKI
RANKINGS
Position
Right Wing
Future Considerations
103
Shoots
Right
Hockey Prospect Black Book
105
Height
6' 01.25"
Int'l Scouting Services
133
Weight
198 lbs
CSS Prelim
USHL B
Born
Feb. 16, 1996
CSS Midterm
72 N Am
Where
St. Cloud, MN
CSS Final
100 N Am
SEASON
CLUB
GP
GL
AS
PT
+-
PM
PP
SH
GW
2013-14
Tri-City (USHL)
55
19
12
31
-27
57
11
3
2
2012-13
Tri-City (USHL)
2
1
1
2
+ 2
0
0
0
0
USNTDP U-17 (NAHL)
22
7
0
7
0
2
4
0
0
St. Cloud Cathedral (HS-MN)
23
25
22
47
0
14
7
1
3
SCOUTING REPORT
"Future Considerations" 2014 NHL Draft Guide
SCOUTING REPORT: After starting the season poorly, there were questions about Poganski's skill and consistency. He put doubters to shame with a strong late-season surge, an came up big for his team following a big trade-deadline shake up. Poganski plays an effective north-south game and generates impressive speed coming down the wing with the puck. He doesn't have the greatest opening steps, but he eventually picks up effective speed, and combines his skating with his size to take the puck deep. Poganski is a strong player on the puck and he protects it efficiently from pressure. He has decent stick skills, but prefers to use his body to shield the puck as he searches for lanes to use to either break toward the net or set up a teammate with a crisp, solid pass. He sees the ice well and is able to create chances for his teammates from within the offensive zone. Poganski likes to find lanes to the net, and will use his speed and strength to earn his way to the goal. He also finds success coming out of the corners and off the walls with the puck, and getting to the net. Poganski does a good job earning his space in the slot with his strength and getting his stick on shots to change their direction before they hit the goalie. He has strong hand-eye coordination and the ability to score around the net. Poganski is effective when he gets involved physically, but there can be more consistency in his hitting game and physical game. Poganski's defensive game is developing, but he does do a good job getting in lanes defensively and using his stick to pressure the point and steal options. He was also a dangerous PKer for the Storm this season, and scored multiple shorthanded goals. NHL POTENTIAL: Top Nine Power Forward.
SCOUTING REPORT
"Hockey Prospect" 2014 NHL Draft Black Book
Poganski has a ton of tools, it's just a matter of him putting them all together. He's a big, big body and with his speed he's extremely difficult to defend against when having a full head of steam with the puck. If he has a full head of steam without the puck, it's bad news for you, because that means that full head of steam is coming to put you through the glass. Poganski's hits are never subtle, he flat out crushes people. He has a thick, solid frame and excellent wheels and that's just a bad combination if you're on the other team ... Very much a north-south type player, Poganski runs at full speed the majority of the time he is on the ice. There is no let up from him, and effort level is never in question. 100% all the time. If he ever struggles, it's never for a lack of effort. High motor is an understatement. He has a strong, explosive, powerful stride and is akin to a runaway locomotive when he's a top gear. There are other players who have the same physical stats, but something about his frame and the way he skates just gives the impression he's even bigger than he's listed ... He's a beast along the boards and rarely loses a board battle to anyone. His physicality causes a lot of turnovers, and Poganski created a lot of quality scoring chances on those turnovers this season in the offensive zone, whether it's during a board battle or going full speed on the forecheck and forcing an error directly or indirectly in causing the opposing player to panic or feel forced to make a play that simply isn't there and turn the puck over ... For a big, bruising type player, Poganski has a fairly soft set of hands and can handle the puck well. He has a decent shot but he gets it off quicker than the average player, so it's very effective. Thrives on driving the net with the puck. He's hard to stop and he knows it, and exploits that in opposing defensemen. He has solid hockey sense, though his decision making, especially in the offensive zone, could improve and should improve over time. Sometimes he'll force things that aren't there or just throw the puck to an area blindly in hopes of a teammate being there but they aren't; could stand to improve his awareness in that regard ... As for his skating, as previously stated, he's fast in a straight line but his agility could be improved. He isn't great laterally and in tight situations his feet can be a little slow, especially in start-stop scenarios. First step needs to be quicker and overall foot speed and agility need to be improved upon. He can disappear for stretches offensively, but overall his production was solid this season. There's more there in the tank, however, and if he can improve in those previously listed areas, his production will increase ... Poganski's played well in big games, as his track record in international play shows, so he should do well next season at the University of North Dakota. He has the attitude and work ethic to improve in the areas he needs to, and he'll have time work on those things and develop further at a strong North Dakota program that has no shortage on developing NHL players.
SCOUTING REPORT
International Scouting Services 2014 NHL Draft Guide
Size/Strength
Very Good
Strengths
Skating
Average
1. Sniper with quick release.
Puck Skills
Below Average
2. Size and strength.
Shot
Very Good
3. Protects puck well.
Offensive Play
Average.
Weaknesses
Defensive Play
Average
1. Consistency.
Physical Play
Very Good
2. Defensive play.
Competitiveness
Good
Hockey Sense
Good
SKILL: Power forward possesses a strong wrist shot and is not afraid to take shots on net from all over the ice. SCOUTING REPORT: Big developing power forward with good size and jam to his game. Is a natural offensive player that has produced prodigious goal totals at every level. Possesses a hard accurate shot and likes to crash the net to generate scoring chances. An average skater that needs to work on his explosiveness to be more effective. Needs to learn to use his size effectively and bring a greater amount of intensity to the rink each night. Plays defensively disinterested at times. NHL POTENTIAL: Possible bottom 6 forward in the NHL.