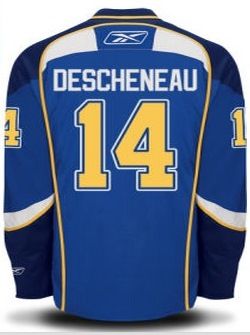 With the 124th pick in the 2014 NHL Entry Draft, the St. Louis Blues are pleased to select right wing Jaedon Descheneau of the Kootenay Ice in the Western Hockey League.
Concerns about his size kept the 5' 9, 186-pound Edmonton native from being drafted last season despite 30 goals and 78 points in 69 games. According to Brett Parker, a Western Scout for International Scouting Services, Descheneau has "very good vision ... and has a good quick release." Parker further notes that Descheneau "does a good job using his body to protect the puck and shield defenders, reads the play well (and is) a scoring threat whenever he is on the ice."
Jaedon DESCHENEAU
RANKINGS
Position
Right Wing
Future Considerations
141
Shoots
Right
Hockey Prospect Black Book
177
Height
5' 08.75"
Int'l Scouting Services
174
Weight
186 lbs
CSS Prelim
N/R
Born
Feb. 22, 1995
CSS Midterm
122 N Am
Where
Edmonton, AB
CSS Final
95 N Am
SEASON
CLUB
GP
GL
AS
PT
+-
PM
PP
SH
GW
2013-14
Kootenay (WHL)
70
44
54
98
+27
54
16
1
6
PLAYOFFS ...
13
10
10
20
- 3
6
4
0
4
2012-13
Kootenay (WHL)
69
30
48
78
+ 9
22
4
0
3
PLAYOFFS ...
5
0
1
1
- 6
2
0
0
0
2011-12
Kootenay (WHL)
54
3
11
14
- 7
24
1
0
0
PLAYOFFS ...
4
0
0
0
0
0
0
0
0
SCOUTING REPORT
"Future Considerations" 2014 NHL Draft Guide
SCOUTING REPORT: A small and highly skilled forward who plays an up-tempo game. Has added a lot of intensity to his game over the offseason. Gained some weight and looks bigger out there despite only being 5-foot-9. Hands are very good and he plays with a ton of flair. Sometimes tries a little too hard to beat guys one on one rather than making a quick pass or simple chip. Doesn't always go to the greasy areas, but he knows what he has to do to score goals and he showed that plenty this season. Dangerous within five feet of the net. Not an overly committed defensive player. His line was very offensively oriented and Descheneau is usually the first player darting up ice. Size limits his effectiveness in the corners, but he works hard. Vision and hockey sense are very good. Plays a high-skill game and has very good smarts, but his lack of size hurts his game more than it should. He doesn't play that big, but has had a big year offensively. We have concerns about his off-ice attitude. NHL POTENTIAL: Top-Six Offensive Winger.
SCOUTING REPORT
"Hockey Prospect" 2014 NHL Draft Black Book
After being passed over in last year's draft despite scoring 78 points, Descheneau came back this year stronger, grittier and more dangerous than ever before. Jaedon is a fireplug winger who plays the game at high level and competes every night. Jaedon is not overly big but has a solid frame. He's strong for his size but will need to add some muscle in the coming years ... An above average skater with quick feet, and good speed allows him to pull away from defenders and win races to the loose pucks. Jaedon never stops moving. He uses his quickness to pressure the puck carrier and force turnovers. He can find the open ice to make himself a scoring option ... Jaedon has a set of soft hands and tremendous puck control which has allowed him to move the puck through traffic or develop a play in close. Descheneau's hockey IQ is above average and he is equal parts scorer and playmaker with his ability to watch the play develop. His uncanny ability to thread a tape-to-tape pass through traffic or find an open player in the scoring areas has been a huge aspect to his offensive production ... Jaedon doesn't have the hardest shot, but he has both good accuracy and a quick release allowing him to surprise goaltenders more than overwhelm them with power. Jaedon is not afraid to battle for rebounds or play in the dirty areas on the ice. His quickness makes him elusive, but he is not a perimeter player and is very willing to engage in one-on-one battles. He often wins puck battles due to grittiness and positioning ... When he is occasionally caught with a big hit, he is very quick to collect himself and get back in the play. He has shown over and over again that he is willing to take a hit to make a play. He has a very strong awareness for both sides of the puck and has shown to play a responsible defensive game.
SCOUTING REPORT
International Scouting Services 2014 NHL Draft Guide
Size/Strength
Below Average
Strengths
Skating
Very Good
1. Finds open ice away from pucks.
Puck Skills
Very Good
2. Very good creative puck play.
Shot
Very Good
3. Good vision and reactions with puck.
Offensive Play
Very Good
Weaknesses
Defensive Play
Average
1. Undersized.
Physical Play
Average
2. Can't win space on his own.
Competitiveness
Very Good
Hockey Sense
Good
SKILL: Playmaking forward with a knack for finding open ice and timely scoring. SCOUTING REPORT: A very intelligent and offensively capable player who while not the biggest player on this ice, always seems to find himself in great scoring areas, Descheneau has a strong technical skill set including good speed, elusive edge control and deadly shot accuracy. Descheneau has benefited a lot from playing with Sam Reinhart but has also proven to be a standout player on his own and has done so since his days in Bantam. He was overlooked in last year's NHL Draft but after another strong season of offensive production, he is proving to be the type of player that may be worth the gamble. NHL POTENTIAL: Organizational depth scorer who could spot into power play time given the right situation.