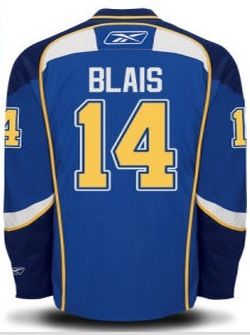 With the 176th pick in the 2014 NHL Entry Draft, the St. Louis Blues are pleased to select left wing Samuel Blais of les Tigres de Victoriaville in the Quebec Major Junior Hockey League.
A small player at 5' 9, 165 pounds, who was just an 8th-round selection by Les Tigres in the QMJHL Midget Draft barely a year ago, Blais has impressed some observers in the "Q" with his skill level. In the "LaPresse.ca" article cited above, former Victoriaville coach Yannick Jean raves about Blais' on-ice vision, calling it "incredible" and noting that "(he) is capable of making (plays) that nobody could expect to see on the ice."
Samuel BLAIS
RANKINGS
Position
Left Wing
Future Considerations
N/R
Shoots
Left
Hockey Prospect Black Book
N/R
Height
5' 09.00"
Int'l Scouting Services
N/R
Weight
165 lbs
CSS Prelim
N/R
Born
June 17, 1996
CSS Midterm
N/R
Where
Montmagny, QC
CSS Final
N/R
SEASON
CLUB
GP
GL
AS
PT
+-
PM
PP
SH
GW
2013-14
Commandeurs des Levis (QMAAA)
21
12
23
35
0
12
2
0
5
Victoriaville (QMJHL)
25
4
10
14
+ 40
0
1
0
2
PLAYOFFS ...
4
0
1
1
- 1
0
0
0
0
SCOUTING REPORT
"Future Considerations" 2014 NHL Draft Guide
SCOUTING REPORT: Not Available.
SCOUTING REPORT
"Hockey Prospect" 2014 NHL Draft Black Book
SCOUTING REPORT: Not Available.
SCOUTING REPORT
International Scouting Services 2014 NHL Draft Guide
Size/Strength
N/R
Strengths
Skating
N/R
N/R
Puck Skills
N/R
N/R
Shot
N/R
N/R
Offensive Play
N/R
Weaknesses
Defensive Play
N/R
N/R
Physical Play
N/R
N/R
Competitiveness
N/R
Hockey Sense
N/R
SCOUTING REPORT: Not Available.