xxx
As UFO's Phil Mogg sings at 2:39 of this kick-ass jam, "lights out... lights out, Chicago..."
"Lights out, Chicago" indeed, as the Wolves stretched the top-seeded Utica Comets to the limit in their series but lost three games to two in the opening round of the AHL Calder Cup playoffs. The Wolves' loss, coupled with the Moncton Wildcats getting swept out of the QMJHL playoffs by Quebec earlier last week, means that there is now not a single Blues' prospect still playing hockey on the third of May.
WOLVES GAME RECAPS
Apr. 29, 2015 -- WOLVES 1 at Utica 2 OT (box score)
May 1, 2015 -- WOLVES 3 at Utica 2 OT (box score)
May 2, 2015 -- WOLVES 2 at Utica 4 (box score)
--------------------
Apr. 29, 2015
Disputed goal helps to drop Wolves
UTICA, NY --- Darren Archibald scored 10:58 into overtime to lift the Utica Comets to a 2-1 victory over the Chicago Wolves on Wednesday night at the sold-out Utica Memorial Auditorium.
Despite 50 saves by goaltender Jordan Binnington, the Wolves trail the Comets 2-1 in their best-of-five Western Conference Quarterfinals. The series could be 2-1 the other way if not for Utica's controversial game-tying goal in the third period.
Comets defenseman Adam Clendening was credited with a goal at 6:58 of the third, though multiple replays did not confirm his shot crossing the goal line. Officials did not use the video replay system to review the play.
"I was screened and I heard it hit the crossbar," Binnington said. "Immediately as a goalie, you go into a snow angel and I felt it under my back or butt there. The ref's initial reaction looked like he wasn't sure, but they told me I hit it in after. I haven't seen (a replay), so I can't comment on it, but I didn't think I dragged it in."
--------------------
May 1, 2015
Wolves force a climatic Game 5
UTICA, NY --- Defenseman Joel Edmundson's power-play goal 2:19 into overtime boosted the Chicago Wolves to a 4-3 victory over Utica on Friday night at sold-out Utica Memorial Auditorium to force a winner-take-all Game 5 on Saturday.
Forward Shane Harper set up Edmundson's game-winner as he held the puck just to the right of goaltender Jacob Markstrom, saucered a pass across the crease over a prone Comets defenseman, and watched as Edmundson buried the shot from the bottom of the right circle.
The Wolves mauled each other on the ice and then celebrated their Game 4 win loudly in the visitors' dressing room.
"This is definitely the biggest goal I've ever scored," Edmundson said.
--------------------
May 2, 2015
UTICA, NY --- In a winner-take-all Game 5, the Chicago Wolves' season came to a close as Brendan Gaunce's pair of second-period power-play goals carried the Utica Comets to a 4-2 victory Saturday night at the Utica Memorial Auditorium.
Forward Magnus Pääjärvi and defenseman Joel Edmundson scored for the Wolves, who answered the Comets' first two scores during a wild second period that featured five goals.
Eighth-seeded Chicago kept looking for the equalizer in the third, but top-seeded Utica clinched the Western Conference Quarterfinal series on Sven Baertschi's empty-net goal with 43.8 seconds to go. Game 5 was the only one in the series not decided by one goal.
"Both teams were a little tired and a little careless," said Wolves head coach John Anderson. "I think we were careless one more time than they were. They're a good team. They were in first place for a reason, but I thought we played them tooth-and-nail. It's a matter of one goal here, one goal there. Bounce of the puck here, bounce of the puck there."
--------------------
Wolves' 2014-15 PLAYOFF Scoring and Penalty Statistics
Wolves' 2014-15 PLAYOFF Goaltending Statistics
==================================================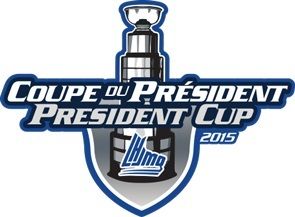 QMJHL PLAYOFFS: Semifinals
The second-seeded Moncton Wildcats have been eliminated by the fourth seed Quebec Remparts in four games of the semifinal round of the QMJHL playoffs. Blues' prospect Ivan Barbashev finished second among QMJHL playoff goal scorers with 13, two behind leader Adam Erne of Quebec, and still sits third in the overall playoff scoring race with 24 points in 14 games.
Quebec will face Rimouski for the President's Cup, and since Quebec is hosting the Memorial Cup this year, both teams will receive a berth in the Memorial Cup tournament regardless of who wins the league championship series.
WILDCATS SEMIFINAL ROUND GAME RECAPS
Apr. 23, 2015 -- WILDCATS 1 vs Quebec 4 (box score)
Apr. 25, 2015 -- WILDCATS 3 vs Quebec 4 (box score)
Apr. 27, 2015 -- WILDCATS 1 vs Quebec 5 (box score)
Apr. 28, 2015 -- WILDCATS 0 vs Quebec 7 (box score)
==================================================
Prospect Statistics Update
Below is a link to a Word Online document with stats for all the Blues' prospects in the 2014-15 season.
NOTE: Playoff stats for Wolves' players and Barbashev have not been updated as of May 3. Updates coming next week.
Click on the "Full Page View" icon (lower right-hand corner) to view the file in a large and easy-to-read display. Stat lines in RED are stats from players still active in this season's playoffs.