♪♪♪♪♪ ... Dunn's profile at OHL dot com
With the 56th pick in the 2015 NHL Entry Draft, the St. Louis Blues select defenseman VINCE DUNN of the Ontario Hockey League's Niagara (St. Catharines, ON) Ice Dogs.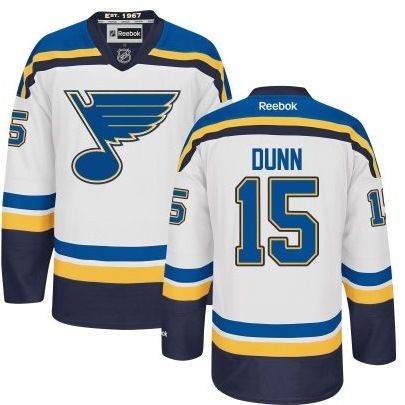 Dunn is a sold six foot, 185-pound left-shooting defenseman who hails from Lindsay, Ontario. He is an offensive-minded blueliner that the 2015 Hockey Prospect.com "Black Book" refers to as "a cerebral puck mover with offensive flair."
The "Black Book" scouting report goes on to say that Dunn "is a very strong skater who can carry the puck up ice but also hit an ideal pass at speed. He handles and moves the puck very well in the offensive zone. He also possesses a powerful and dangerous shot. Strong for his size, he plays with an edge defensively."
The scouting report on Dunn from the "Future Considerations" 2015 Draft Guide correlates with the "Black Book" assessment:
"Dunn possesses high-­‐end, elite agility with insane lateral movement that he uses very effectively. His first few strides and overall acceleration make him very dangerous on the ice. Uses this speed to separate himself from checks and catch the puck carrier on the backcheck or in mid-­ice. He makes some pretty nifty moves with speed as he exudes confidence with the puck on his stick. The vision that this kid possesses is elite. He sees lanes before they open and leads his man with the puck just in front of him."
Vince DUNN
RANKINGS
Position
Defenseman
Future Considerations
34
Shoots
Left
Hockey Prospect Black Book
46
Height
6' 00.00"
...
..
Weight
187 lbs
CSS Preliminary
N Amer "B"
Born
Oct. 29, 1996
CSS Midterm
53 N Amer
Where
Lindsay, Ontario
CSS Final
34 N Amer
SEASON
CLUB
GP
GL
AS
PT
+-
PM
PP
SH
GW
2014-15
Niagara (OHL)
68
18
38
56
+ 8
59
9
0
3
...Playoffs
8
6
4
10
+ 1
22
2
0
0
2013-14
Niagara (OHL)
63
5
28
33
- 8
45
2
0
0
... Playoffs
7
0
1
1
+ 4
2
0
0
0