♪♪♪♪♪ ... Gawdin's profile at WHL.ca
With the 116th pick in the 2015 NHL Entry Draft, the St. Louis Blues select center GLENN GAWDIN of the Western Hockey League's Swift Current Broncos.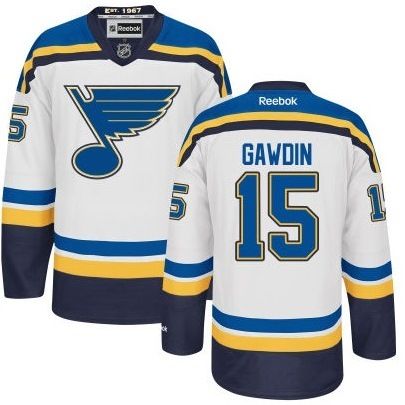 A right-shooting center who stands just about 6' 1 and weighs in at a solid 191 pounds, Gawdin is a complimentary type of scoring forward and the type of player who projects as a dangerous third-line player and hard-working fan favorite.
The Hockey Prospect.com "Black Book" scouting report on Gawdin describes him as a player with "an attractive set of skills and a good raw package," and cites his "competitiveness, playmaking ability and scoring drive" as his most attractive attributes. Gawdin's skating is cited as a minor concern by the "Black Book" scouts; "(h)is skating looks ugly," they note, "but he gets around without issues."
The "Black Book" goes on to say that "(o)nce in the offensive zone, the staple of Gawdin's game is his playmaking skill. He's a very talented passer with excellent all-zones awareness and a good teammate when it comes to supporting others during puck battles in dangerous areas. He's especially good in competitive board battles and then calmly distributing the puck back to the point to keep the offensive alive or cycling it down low maintaining possession."
By contrast, the scouting report on Gawdin from the "Future Considerations" 2015 Draft Guide focuses more on the Richmond, BC native's abilities as a scorer rather than a playmaker:
"Gawdin doesn't possess dynamic hands; however, he excels at protecting the puck. This combo of speed and ability to avoid stick checks is what makes him so effective entering the offensive zone. Gawdin keeps his head up and finds his teammates well, but he isn't the most creative puck mover ... more effective as a goal scorer as opposed to playmaker. Adding to his goal-scorer mentality is a very effective shot. Gawdin can really rip it and does so with a very quick release and little windup. He is also always looking to pick corners, and no shot off of his stick is a wasted one. Gawdin has solid size and is willing to throw his weight around. He goes to the tough areas and shows good effort on both sides of the puck."
116.
Glenn GAWDIN
RANKINGS
Position
Center
Future Considerations
73 Overall
Shoots
Right
Hockey Prospect Black Book
98 Overall
Height
6' 00.50"
...
...
Weight
191 lbs
CSS Preliminary
N America "A"
Born
Mar. 25, 1997
CSS Midterm
37 N America
Where
Richmond, British Columbia
CSS Final
59 N America
SEASON
CLUB
GP
GL
AS
PT
+-
PM
PP
SH
GW
2014-15
Swift Current (WHL)
72
15
39
54
- 9
59
2
0
4
... Playoffs
4
1
1
2
- 2
0
0
0
0
2013-14
Swift Current (WHL)
66
10
12
22
-11
34
0
0
0
... Playoffs
6
0
0
0
0
0
0
0
0