♪♪♪♪♪ ... Dunda's profile at the Ontario League website (OHL.com)
With the 176th pick in the 2015 NHL Entry Draft, the St. Louis Blues select left wing LIAM DUNDA of the Owen Sound Attack in the Ontario Hockey League.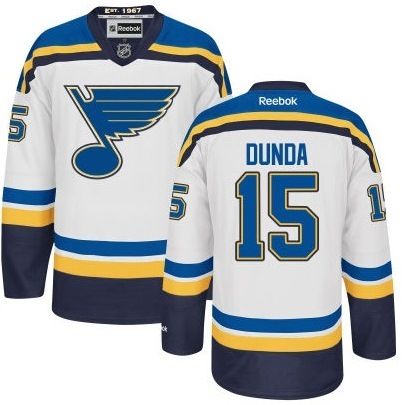 Dunda is a hulking kid at over 6' 4 and 212 pounds, and one who was selected by the Blues despite not being ranked by Central Scouting in either the Preliminary, Midterm, or Final rankings.
The Hockey Prospect.com "Black Book" scouting report on Dunda describes him as a player with "massive size," and one who "played a game that is very well suited to his body as a physically intimidating player. He hit hard and punished opponents whenever possible."
The "Black Book" goes on to say that Dunda "is pretty limited (offensively). He has a decent shot and even showed a few flashes of playmaking ability late in the season but all in all Liam's upside is his potential as a simple hard nosed physical player who isn't afraid to drop the gloves either." Dunda was the youngest player eligible for the 2015 Draft, born on the cutoff day of Sep. 15, 1997... a day later and he would not have been eligible until next year's Draft.
In an interview posted on blues.nhl.com, Director of Amateur Scouting Bill Armstrong had these comments about Dunda:
"He's an exciting kid. Our scouts were at the end of the table pounding (on it), wanting us to take this guy, They feel he's really raw, but he's another big guy that can skate. He's had a little (issue with) consistency where we'd like to see him play a little bit tougher all the time, but he can fight and he's got the ability to get there for the hit. One of our scouts drafted him (in the OHL Priority Selection), so we've got some good insight, and there's more (to come) from him. A lot of the guys said that he reminded them of (Sabres' veteran forward) Matt Moulson, so he's an intriguing player, too."
176.
Liam DUNDA
RANKINGS
Position
Left Wing
Future Considerations
N/R
Shoots
Left
Hockey Prospect Black Book
N/R
Height
6' 04.25"
...
...
Weight
212 lbs
CSS Preliminary
N America N/R
Born
Sep. 15, 1997
CSS Midterm
N/R N America
Where
Grimsby, Obntario
CSS Final
N/R N America
SEASON
CLUB
GP
GL
AS
PT
+-
PM
PP
SH
GW
2014-15
Plymouth (OHL)
21
2
3
5
- 4
22
1
0
0
Owen Sound (OHL)
32
0
4
4
- 2
36
0
0
0
... Playoffs
5
0
1
1
- 1
2
0
0
0
2013-14
Plymouth (OHL)
50
1
3
4
-11
56
0
0
0
... Playoffs
5
0
0
0
0
2
0
0
0