♪♪♪♪♪ ... The Blues recently wrapped up the 2015 edition of their Prospect Development Camp at The Mills. Your GTPD emptied his "Germany Fund" (money put aside to pursue our second passion, a comprehensive study of "The Third Germany," or those parts of Germany which were not either Prussia or Austria) in order to be able to take a trip up from Redneckistan to get a look at the future of the Blues. Following are photos of each of the 20 prospects at the camp to whom the Blues have the NHL playing rights, and some observations about each player.
♪♪♪♪♪♪♪♪♪♪♪♪♪♪♪♪♪♪♪♪♪♪♪♪♪♪♪♪♪♪♪♪♪♪♪♪♪♪♪♪♪♪♪♪♪♪♪♪♪♪♪♪♪♪♪♪♪♪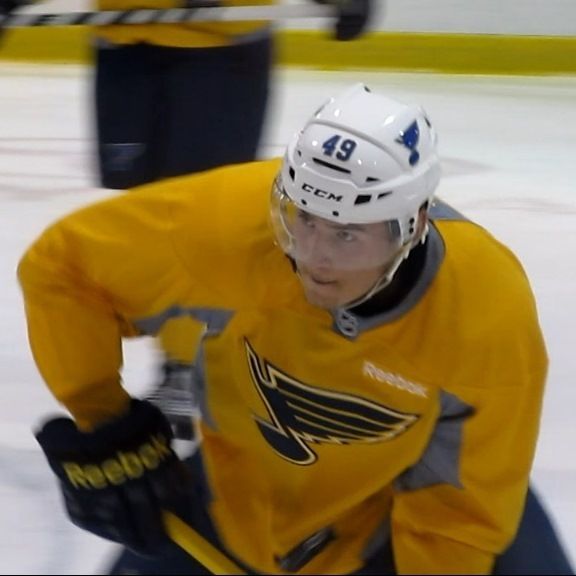 Ivan Barbashev is a talent, no doubt about it... he has excellent speed, great hands, and a nose for the puck. He is always involved in the play when he is on the ice. That said, he seemed at times during the drills a little disinterested to me, as if he realizes that he has a spot (with the Wolves, at least) locked up and is therefore not going "balls-out" as much as he could. It is hoped that he will not perform similarly at Traverse City in September, or in the main camp that follows.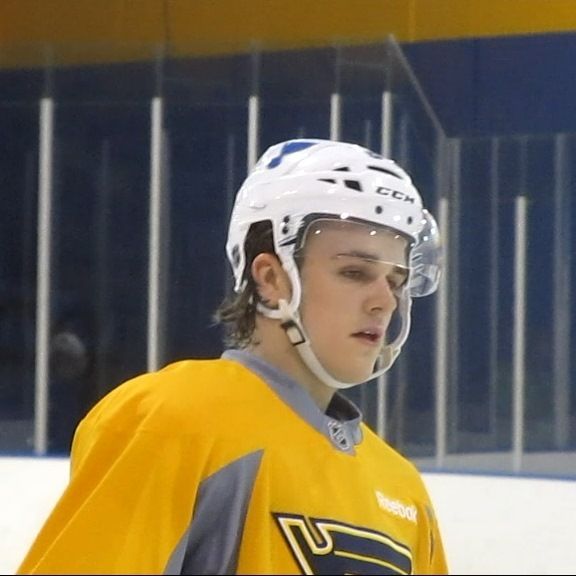 Samuel Blais could very well turn out to be a late-round steal for the Blues. He seems to have had a growth spurt, and now seems somewhat bigger than the six feet, 175 pounds at which the Blues have him listed; he is bigger than Barbashev when standing side-by-side (will search my camp video for photographic proof). Blais has good speed and hands, and after his breakout 2014-15 season in the "Q" looks ready to put the finishing touches on his junior career next season and move up to the AHL in 2016-17.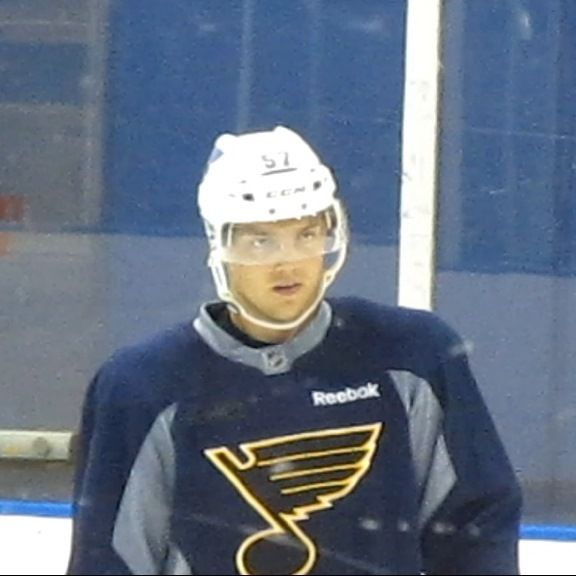 Jaedon Descheneau reminds your GTPD very much of another smaller player from Western Canada who carved out a decent NHL career for himself -- Theoren Fleury. Like Fleury, Descheneau is a waterbug, small but stocky, very quick and agile on skates, likes to get involved physically, and can snipe when flying in off the wing. He may return for an overage year in junior, as the Blues have not yet signed him to an ELC, but there should be room in the system for this kid going forward. Descheneau and Robbie Fabbri were a very dynamic, high-motor pairing in the three-on-three and four-on-four drills and scrimmages.
Liam Dunda is, as Blues' chief scout Bill Armstrong noted at the draft, an "intriguing" player. Dunda has great size and is not shy about using it, and while he does not display offensive upside on the level of a Barbashev or even a Descheneau, Dunda made enough plays in the scrimmages to give an observer real hope for his future as a pro. Not the best or most fluid skater by any means, but he can get where he needs to go and is not a liability as a bottom six forward in that aspect.
Vince Dunn, the Blues' first pick in the recent Entry Draft, was one of the stars of the show at Prospect Camp. Lots of eyes were on him every time on the ice, and he did not disappoint. Dunn has decent size already, and is a good skater forwards and backwards with a great deal of obvious offensive upside. His defense is just OK, but he has time to work on it a little more in junior, and should be one of the more interesting prospects at Traverse City in September.
Where Dunn was one of the stars at camp, Robbie Fabbri was probably the star of Prospect Camp. Fabbri is a player to whom your eye is almost automatically drawn when on the ice; not the biggest player there, but he has a presence that is undeniable. He has been called in this space "The 21st Century Doug Gilmour," and we saw nothing at Prospect Camp to make us deviate from that assessment. Fabbri has speed and skill to burn, and is a player that the other prospects seemed to look to for leadership during drills and scrimmages.
Jeremy Rutherford of the Post-Dispatch is on record as saying that Fabbri will probably not make the Blues out of training camp this year, however, and your GTPD is inclined to agree with that assessment... primarily because Fabbri missed a big chunk of last season with an injury he suffered at the World Junior tournament. A high ankle sprain kept Fabbri sidelined for about three months, and that development time is time that cannot be gotten back, only made up for. Had Fabbri played the whole season injury-free, we would rank him as even money to make the Blues out of camp this year; as things stand, we see him going back for his final year of major junior and being one of the dominant players, if not the dominant player, in the Ontario League in 2015-16, with another assignment to the Wolves all but assured once his junior season is done.
2015 draft pick Glenn Gawdin was, in our assessment, one of the top forwards at the Prospect Camp this year. Gawdin is not exceptional in any one area, but does everything that a top six forward is supposed to do, and does it all well. A good skater with a quick release on the rush, Gawdin has good hands in tight and is good on faceoffs as well. He is certainly a prospect to keep a close eye upon for the next couple of years playing in what may be the best junior league in the world, the WHL.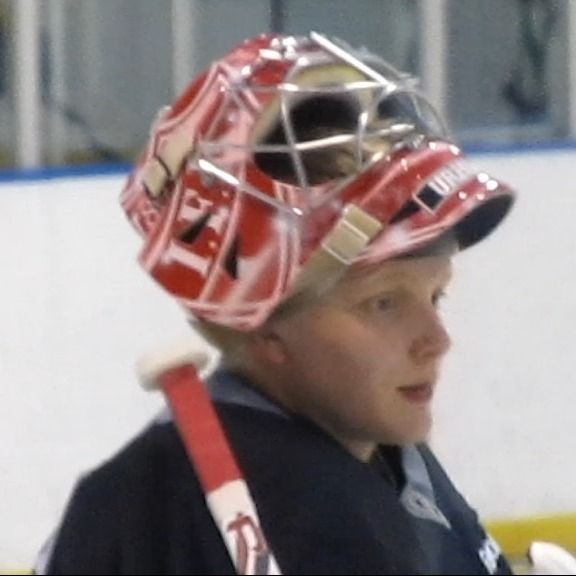 Ville Husso made his debut at a Blues' camp this summer, and looked to be every bit as good a prospect as he has been billed. Husso has good size for a goalie, and is very fluid and smooth in his movements in the net. Nothing seems to rattle him, be it a slapshot from the point or traffic right in front of him, and he has a very fast glove hand that he demonstrated to good effect in the scrimmages. Two years in the Finnish elite league (Liiga) has prepared him well, and it would be nice to see him remain on this side of the pond for 2015-16. There is probably no room for him in Chicago with Jordan Binnington and the newly-acquired Pheonix Copley penciled in as the Wolves' goalies, but a duo of Husso and second-year pro Niklas Lundström could be very formidable for the Blues' ECHL affiliate.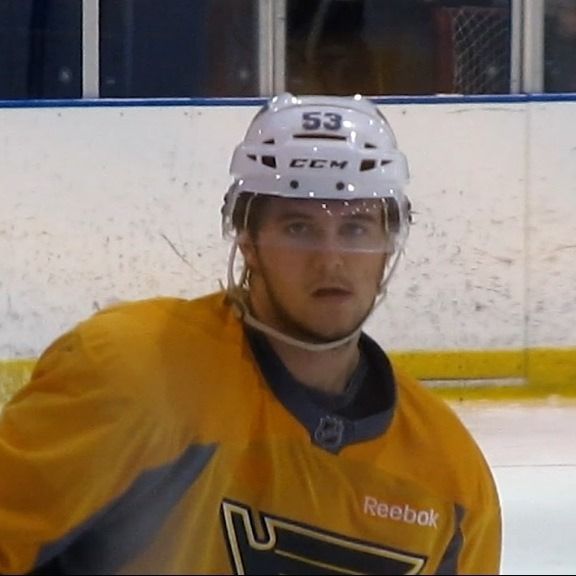 Mackenzie Maceachern, a 2012 draft pick, was also in our estimation one of the better forwards at the Prospect Camp. Tall and lanky, the Detroit-area native could probably stand to pack on a few more pounds in preparation for the pro game, but he is effective at his present weight in college with Michigan State. An excellent skater with good speed, Maceachern was paired most often with Blais in scrimmages and drills, and worked well with him as well as with Barbashev. If Maceachern decides to turn pro after the coming season, he could be part of a very effective "Kid Line" with Barbashev and Blais in Rosemont when the 2016-17- season rolls around.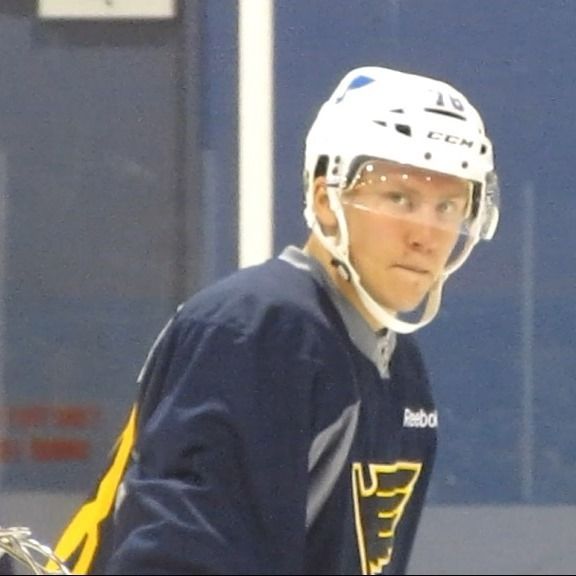 The Blues are loaded with quality defense prospects, and 2015 draftee Niko Mikkola can be ranked with the best of them based on our observations of him in Prospect Camp. Like Maceachern, Mikkola is tall and lanky and could probably bulk up a little with no discernible effect on his skating, but he is effective at his present weight. Mikkola does not seem to have a great deal of offensive upside, but his defensive game is very sound; in one scrimmage, Maceachern made a nice move to get around him in the slot, and Mikkola made an equally-nice stick check to rob Maceachern of a quality scoring chance by taking the puck away from behind.
2015 draftee Adam Musil was, in our estimation, a bit of a disappointment at Prospect Camp. While he does work hard and pays close attention to instruction, and does have excellent size (which the organization below the NHL level had been sorely lacking at the center position), Musil's overall offensive game is very raw and needs a lot of work. In one drill, where the coaches would shoot on the goalie and a player standing to the goalie's left would send the rebound across to set up players for a one-timer, we saw Musil whiff cleanly on three successive attempts. Musil and Gawdin seemed joined at the hip in drills and scrimmages, and were always working together to more or less good effect. All the pieces seem to be there, but Musil definitely needs some more time in junior to put them all together.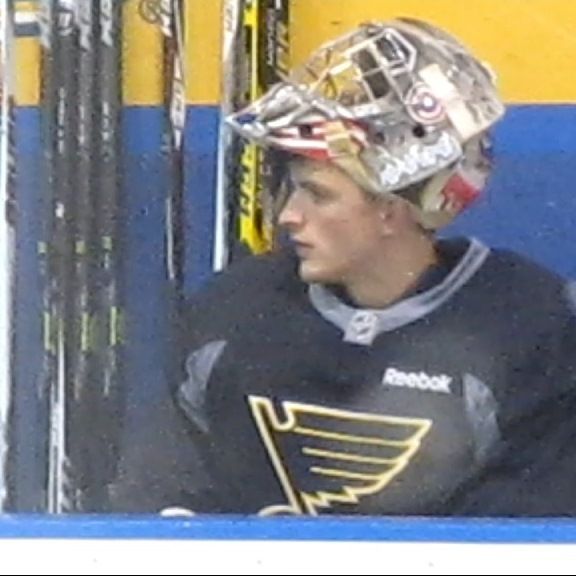 When the Blues drafted Effingham native Luke Opilka earlier this summer, the big goalie prospect was committed to the University of Wisconsin for 2015-16. and was not slated to attend the Prospect Camp at first. Opilka recently hooked up with the OHL's Kitchener Rangers, however, and the way was cleared for the hometown boy to make good at camp right away. He did not disappoint, as Opilka was the focus of a lot of media and fan attention and handled it all pretty well. Like Husso, Opilka is a big goalie who is very fluid in his movements, and is especially good at lateral, side-to-side movement in the net. Signing with a major junior team moves the timetable up by two years on Opilka, and he looks to be ready to take advantage of it.
It's hard to look at Colton Parayko and not draw comparisons to former Blue and new Hall of Famer Chris Pronger. The two have much more in common than just a set of initials; like Pronger, Parayko is a beast on the ice, tall and strong without being bulky, and again like Pronger, Parayko has obvious leadership qualities that shine through without his needing to assert them directly. It was very evident that the coaches and the other prospects looked to Parayko for on-ice leadership, and he delivered. He and Fabbri were often seen talking together and working out strategies for the drill or scrimmage they were in. Parayko has a great shot, is a good skater forwards and backwards, and uses his size to great effect. Parayko is at this point probably the Blues' best defense prospect, and they have a lot of quality defense prospects to choose from.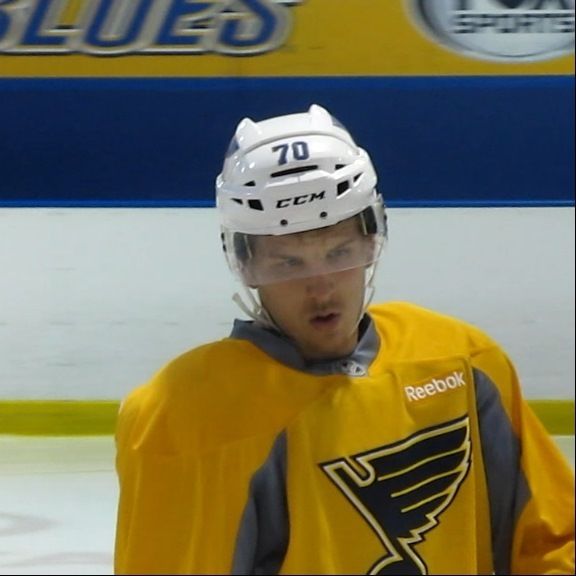 Austin Poganski, a big right wing prospect preparing to enter his sophomore season with NCAA power North Dakota, showed himself to be something of a power forward in the making at Prospect Camp. He moves pretty well for a big man, works hard along the walls and in the corners, goes to the front of the net to position himself for screens and rebounds, and can unleash a pretty good shot coming down the right wing. All that said, Poganski is still a little raw and needs to work on the basics a bit more, but the potential is there.
2012 first-round pick Jordan Schmaltz is not far behind Parayko in terms of his position on the prospect defense depth chart. While some (including your GTPD) had questions about Schmaltz as a first-round pick, three seasons at North Dakota and his performance in Prospect Camp laid those doubts to rest. Schmaltz has size, skill and speed in more than adequate quantities to excel as a defenseman at the pro level; his offensive game is well-developed, his defensive game is solid, and he is not afraid to assert himself physically when necessary. Your GTPD is looking forward to Schmaltz' rookie year in 2015-16 with the Wolves.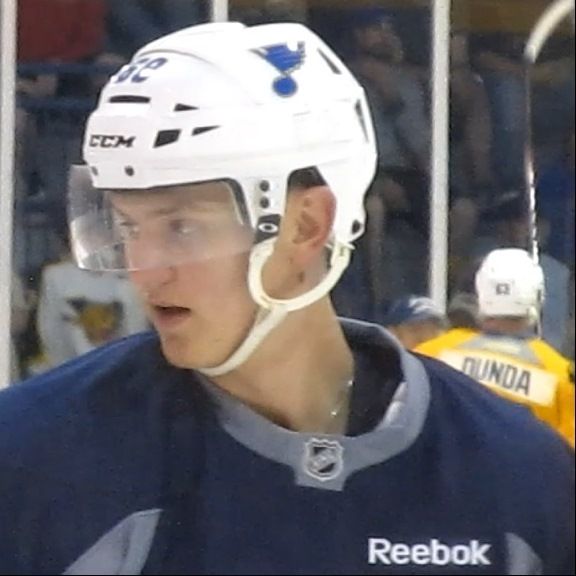 With so many top-notch defense prospects making their presence felt at Prospect Camp, free agent signing Dmitrii Sergeev may have gotten lost in the shuffle just a bit. Sergeev did nothing poorly that we saw at camp, but also didn't stand out in any one aspect either. If we were giving Sergeev a performance review for his camp, he would be assigned to the "Meets Expectations" category... which is not a bad thing by any means, but in an organization with so many quality defense prospects, Sergeev will need to stand out much more in order to move up the ranks.
Big collegian Dwyer Tschantz came to this year's Prospect Camp as something of a "tweener," or an unknown quantity, and departed without having changed that status very much. The first Delaware native to be drafted into the NHL, Tschantz did not display a great deal of offensive upside, but performed adequately in a defensive role... including several shifts as a defenseman in the scrimmages. He has three more years at Cornell, Ken Dryden's alma mater, in order to figure things out.
Tommy Vannelli has made great strides during his two years in major junior after turning his back on the University of Minnesota before the 2013-14 season. The Blues' first selection in the 2013 Draft, Vannelli has developed into a dynamic offensive force on the blue line, and his defense is good enough to get him by at the pro level. The only thing he still needs to work on is to bulk up a little without losing any of his considerable speed and agility, because he's skinny as a rail and will get blasted in the AHL if he doesn't add 20 pounds or so to his frame.
A key member of the NCAA champion Providence College Friars as a freshman, Jake Walman was perhaps the most impressive of the Blues' defense prospects at camp. Walman seems to have bulked up a bit from the 170 pounds he weighed on his draft day in 2014, and he has clearly benefited from playing a big role with a national championship squad. Walman is solid defensively, has some good offensive upside, and is a vocal leader on the blueline. He may be ready to turn pro sooner rather than later.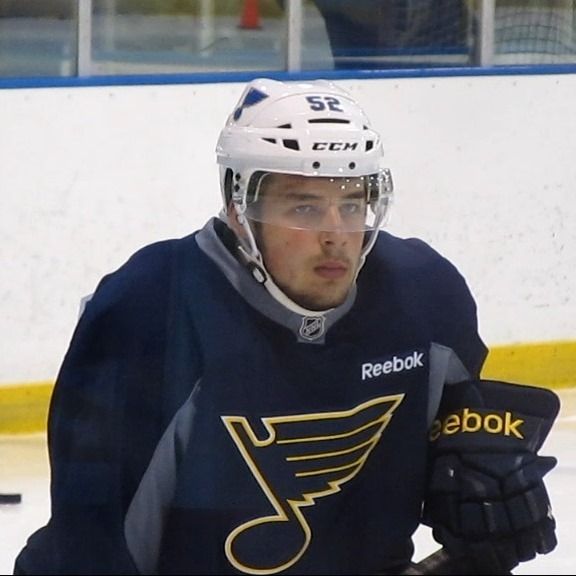 Chandler "C.J." Yakimowicz looks to be developing into a successor to fan favorite Ryan Reaves as a solid bottom six forward with a good work ethic, a strong physical game, and more offensive upside than one might expect from a player in that position. Yakimowicz has NHL size already, and made great strides offensively as a junior this year with London of the OHL, emerging as a dependable bottom six forward with 13 goals, 33 points, plus-3 and 95 minutes in penalty time.