♪♪♪♪♪♪♪♪♪♪♪♪♪♪♪♪♪♪♪♪
As anyone knows if you've been reading "Tomorrow's Blues" for any length of time, the time leading up to the annual NHL Entry Draft is your "Game Time" Prospect Department's favorite time of the year.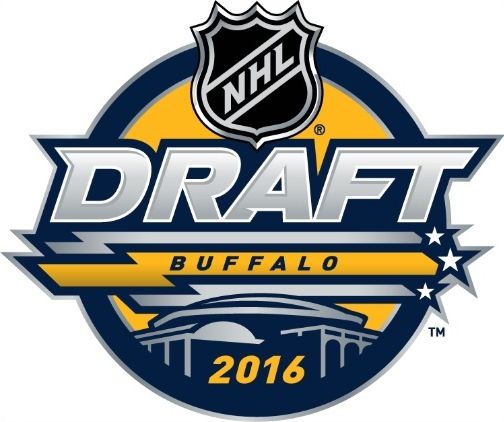 The Blues' recent deep run into the Stanley Cup playoffs has delayed our shifting of focus into full-time Draft Preview mode, but now that the boys have been shut down for the year, it's time for your GTPD to get serious about the 2016 NHL Entry Draft.
As of today, the Blues will have seven selections in the draft, to be held the weekend of June 24-25 in Buffalo. Barring any trades, the Blues will draft at 28th overall in the first round, and following any compensatory picks being awarded, will pick near the end of the second round, the end of the third round (Washington's pick from the Oshie trade), the end of the fourth, the top of the fifth (Columbus' pick from the Jordan Leopold trade), and two of the last three picks in the draft at the end of the seventh round.
The Blues acquired Pittsburgh's seventh-round pick in this draft along with Robert Bortuzzo in the Ian Cole trade, and had sent their seventh-round pick to San Jose for Konrad Abeltshauser, with the condition that the Sharks would only get the pick if Abeltshauser played "x" number of games for the Blues. Thanks to a poor showing by Abeltshauser with the Chicago Wolves, that condition was not met and the Blues will retain their seventh-round pick.
We will kick off our coverage of the 2016 Entry Draft with our annual tradition of posting the "Game Time" Silver Seven, the seven prospects that our research and understanding of the Blues' developmental system tell us should be the most likely targets for the Blues' first pick in this draft.
Meet Me In St. Louis...
There are four potential first-round picks in this draft who have ties to St. Louis: two players born in the area (Swansea, IL native Clayton Keller of the USNTDP, and St. Louisan Luke Kunin of the University of Wisconsin), and two more who are sons of former Blues' greats and who played much of their minor hockey in St. Louis despite not being born here (Scottsdale, AZ native Matthew Tkachuk, and Jeff Brown's son Logan, born in Raleigh, NC).
Unless the Blues trade up into the first 15 picks, however, their chances of having one of these players fall to them at 28th overall are slim to none. So the 2016 "Silver Seven" will focus on players who we expect to be available at the tail end of the first round... with the caveat that if the Blues should manage to pull off a trade for a high pick, one of the four players mentioned should be the target.
Presenting... The 2016 "St. Louis Game Time" SILVER SEVEN
...
Vitali ABRAMOV
RANKINGS
Position
Left/Right Wing
CSS Preliminary
N America "B"
Shoots
Left
CSS Midterm
N America 56
Height
5' 08.75"
CSS Final
N America 29
Weight
172 lbs
...
...
Born
May 8, 1998
Birthplace
Chelyabinsk, RUS
SEASON
CLUB
GP
GL
AS
PT
+-
PM
PP
SH
GW
2015-16 Regular
Gatineau (QMJHL)
63
38
55
93
+ 36
36
11
0
6
2016 Playoff
Gatineau (QMJHL)
10
7
6
13
+ 7
8
0
0
2
2016 WJC
Russia U18
0
0
0
0
0
0
0
0
0
SCOUTING NOTES
PLUS
MINUS
Skating; great speed, very shifty
Lack of size
Skilled; high hockey IQ
"Russian Factor"
Good compete level, intensity
PHOTO: MHL.KHL.RU
...
Henrik BORGSTRÖM
RANKINGS
Position
Center
CSS Preliminary
Europe "C"
Shoots
Left
CSS Midterm
Europe 11
Height
6' 03.00"
CSS Final
Europe 9
Weight
176 lbs
...
...
Born
Aug. 6, 1997
Birthplace
Helsinki, FIN
SEASON
CLUB
GP
GL
AS
PT
+-
PM
PP
SH
GW
2015-16 Regular
HIFK Jr (FIN U20)
40
29
26
55
+ 23
20
7
0
0
2016 Playoff
HIFK Jr (FIN U20)
4
4
2
6
- 3
0
0
0
0
2016 WJC
Finland U18
0
0
0
0
0
0
0
0
0
SCOUTING NOTES
PLUS
MINUS
Puckhandling in traffic
Raw; needs work in several areas
Highly accurate wrist shot
Needs to keep feet moving
Above-average playmaking skills
Improvement needed in faceoff circle
PHOTO: HIFKJRS.COM
...
Brett HOWDEN
RANKINGS
Position
Center
CSS Preliminary
N America "B"
Shoots
Left
CSS Midterm
N America 27
Height
6' 02.25"
CSS Final
N America 22
Weight
193 lbs
...
...
Born
Mar. 29, 1998
Birthplace
Oakbank, MB
SEASON
CLUB
GP
GL
AS
PT
+-
PM
PP
SH
GW
2015-16 Regular
Moose Jaw (WHL)
68
24
40
64
- 7
61
8
0
3
2016 Playoff
Moose Jaw (WHL)
10
4
11
15
0
4
2
0
1
2016 WJC
Canada U18
6
5
3
8
+ 2
8
1
0
1
SCOUTING NOTES
PLUS
MINUS
Size; has an NHL frame
Needs to fill out
Solid 200-foot game
No single outstanding trait
Excellent hockey sense
Improvement needed in speed, acceleration
PHOTO: MJWARRIORS.COM
...
Boris KATCHOUK
RANKINGS
Position
Left Wing
CSS Preliminary
N America N/R
Shoots
Left
CSS Midterm
N America 32
Height
6' 01.00"
CSS Final
N America 25
Weight
181 lbs
...
...
Born
June 18, 1998
Birthplace
Vancouver, BC
SEASON
CLUB
GP
GL
AS
PT
+-
PM
PP
SH
GW
2015-16 Regular
Sault Ste. Marie (OHL)
63
24
27
51
+ 7
61
6
1
6
2016 Playoff
Sault Ste. Marie (OHL)
12
6
4
10
+ 3
4
0
1
1
2016 WJC
Canada U18
5
1
1
2
0
8
0
0
0
SCOUTING NOTES
PLUS
MINUS
Physical play; strong on his skates
Speed needs improvement
Good hands, playmaking skills
Needs to get stronger
Forechecking ability
Improvement needed in defensive awareness
PHOTO: SOOGREYHOUNDS.COM
...
Taylor RADDYSH
RANKINGS
Position
Right Wing
CSS Preliminary
N America "B"
Shoots
Right
CSS Midterm
N America 34
Height
6' 01.75"
CSS Final
N America 36
Weight
203 lbs
...
...
Born
Feb. 18, 1998
Birthplace
Toronto, ON
SEASON
CLUB
GP
GL
AS
PT
+-
PM
PP
SH
GW
2015-16 Regular
Erie (OHL)
67
24
49
73
+ 19
18
11
0
5
2016 Playoff
Erie (OHL)
12
4
6
10
+ 4
2
2
0
1
2016 WJC
Canada U18
0
0
0
0
0
0
0
0
0
SCOUTING NOTES
PLUS
MINUS
NHL size and strength
Good, but not elite skill level
Excellent skater for a big man
Still somewhat raw and undeveloped
Skilled in both ends of the ice
PHOTO: OTTERSHOCKEY.COM
...
German RUBTSOV
RANKINGS
Position
Center
CSS Preliminary
Europe "B"
Shoots
Left
CSS Midterm
Europe 6
Height
6' 02.00"
CSS Final
Europe 5
Weight
176 lbs
...
...
Born
June 27, 1998
Birthplace
Chekhov, RUS
SEASON
CLUB
GP
GL
AS
PT
+-
PM
PP
SH
GW
2015-16 Regular
Team Russia U18 (MHL)
28
12
14
26
+ 12
10
3
1
2
2016 Playoff
Team Russia U18 (MHL)
3
0
1
1
- 3
0
0
0
0
2016 WJC
Russia U18
0
0
0
0
0
0
0
0
0
SCOUTING NOTES
PLUS
MINUS
Hockey IQ; understanding of the game; vision
Held out of U18 WJC due to team doping scandal
Hands; quick stick, puckhandling skills
"Russian Factor"
Strong two-way, neutral zone game
Needs to develop faceoff skills
PHOTO: MHL.KHL.RU
...
Riley TUFTE
RANKINGS
Position
Left Wing
CSS Preliminary
N America "B"
Shoots
Left
CSS Midterm
N America 17
Height
6' 04.75"
CSS Final
N America 17
Weight
205 lbs
...
...
Born
Apr. 10, 1998
Birthplace
Ham Lake, MN
SEASON
CLUB
GP
GL
AS
PT
+-
PM
PP
SH
GW
2015-16 Regular
Blaine HS (MN HS)
25
47
31
78
- 1
53
6
7
10
2015-16 Regular
Fargo (USHL)
27
10
4
14
- 5
30
6
0
2
2016 WJC
USA U18
0
0
0
0
0
0
0
0
0
SCOUTING NOTES
PLUS
MINUS
Outstanding size and reach
Questions about competition level in HS hockey
Skates well for a big man
Needs to develop playmaking vision
Exscellent shot and puck protection skills
Needs to improve defensive game
PHOTO: MNHOCKEYHUB.COM