With the 14th pick in the 2016 NHL Entry Draft, the St. Louis Blues are pleased to select center LUKE KUNIN from the University of Wisconsin.
♪♪♪♪♪♪♪♪♪♪♪♪♪♪♪♪♪♪♪♪♪♪♪♪♪♪♪♪♪♪♪♪♪♪♪♪♪♪♪♪♪♪♪♪♪♪♪♪♪♪♪♪♪♪♪♪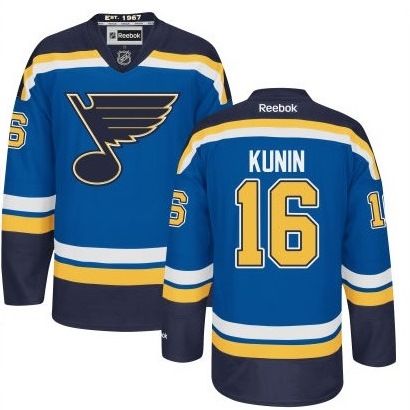 A right-shooting center who hails from the St. Louis suburb of Chesterfield, Missouri, Kunin has battled Type 1 diabetes since sixth grade, and persevered to finish high school in three years, captain Team USA to a Gold medal at the 2015 U18 World Junior Championships, and go on to become a leader for the University of Wisconsin Badgers.
Kunin's December 1997 birthdate made him ineligible for last year's Draft, but the youngster ranked 11th in North America by NHL Central Scouting for this draft has demonstrated the kind of maturity that scouts and GM's look for ever since his days as one of the elite players in minor hockey back home in St. Louis.
The folks at "Hockey Prospect.com" had this to say about Kunin in their 2016 "Black Book" NHL Draft Guide:
Kunin is a mature young man both on and off the ice and showed good leadership qualities despite being one of the younger players on the team. Kunin was close to a point per game with 32 points in 34 games, ended the season with nine goals in the final 10 games and started to dominate games down the stretch. Kunin spent most of the season playing left wing, but did spend some time at center and was effective at either (position) and good in the faceoff circle.
The "Black Book" had Kunin ranked 17th overall for this draft, and one of their scouts, Dustin Brooksma, added this observation about the newest member of the Blues:
You can tell this kid thinks the game at an Elite level; he always knows where he needs to be to find the puck on his stick and has the finishing ability to convert on his chances.
The staff of "Future Considerations.com" ranked Kunin 19th overall for this draft, and also had good things to say about the young man in their own 2016 Draft Guide, calling him a "mature, smart, speedy goal-scoring centerman" with "elite-level offensive hockey sense."
"Future Considerations" also made note of Kunin's speed, stating that he "possesses maybe the quickest first steps of all 2016 draft eligibles." Their scouts observed that Kunin "is at full speed in two to three steps," and that "his top-end speed is special."
♪♪♪♪♪♪♪♪♪♪♪♪♪♪♪♪♪♪♪♪♪♪♪♪♪♪♪♪♪♪♪♪♪♪♪♪♪♪♪♪♪♪♪♪♪♪♪♪♪♪♪♪♪♪♪♪
Luke KUNIN
RANKINGS
Position
Center/Left Wing
Future Considerations
19
Shoots
Right
Hockey Prospect Black Book
17
Height
5' 11.75"
Weight
193 lbs
CSS Prelim
N Amer "A"
Born
Dec. 4, 1997
CSS Midterm
N Amer 16
Where
Chesterfield, MO
CSS Final
N Amer 11
SEASON
CLUB
GP
GL
AS
PT
+-
PM
PP
SH
GW
2015-16
U Wisconsin (Big 10)
34
19
13
32
- 9
34
5
1
1
2014-15
USNTDP U-18 (USHL)
61
27
15
42
0
34
7
1
2
...GOLD MEDAL
United States (WJC U-18)
7
6
0
6
+ 9
2
0
1
1
2013-14
USNTDP U-17 (NAHL)
52
20
18
38
0
39
6
0
2
PHOTO: UWBADGERS.COM