♪♪♪♪♪♪♪♪♪♪♪♪♪♪♪♪♪♪♪♪
As anyone knows if you've been reading "Tomorrow's Blues" for any length of time, the time leading up to the annual NHL Entry Draft is your "Game Time" Prospect Department's favorite time of the year.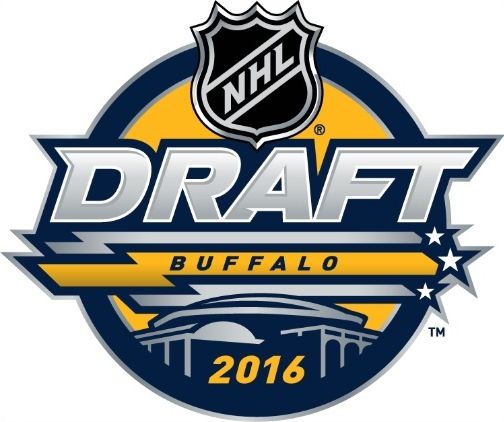 As of today, the Blues will have seven selections in the draft, to be held the weekend of June 24-25 in Buffalo. Barring any trades, the Blues will draft at 28th overall in the first round, and following any compensatory picks being awarded, will pick near the end of the second round, the end of the third round (Washington's pick from the Oshie trade), the end of the fourth, the top of the fifth (Columbus' pick from the Jordan Leopold trade), and two of the last three picks in the draft at the end of the seventh round.
The Blues acquired Pittsburgh's seventh-round pick in this draft along with Robert Bortuzzo in the Ian Cole trade, and had sent their seventh-round pick to San Jose for Konrad Abeltshauser, with the condition that the Sharks would only get the pick if Abeltshauser played "x" number of games for the Blues. Thanks to a poor showing by Abeltshauser with the Chicago Wolves, that condition was not met and the Blues will retain their seventh-round pick.
We will continue our coverage of the 2016 Entry Draft with our annual tradition of posting the "Game Time" Ssecond Seven, the seven prospects that our research and understanding of the Blues' developmental system tell us should be the most likely targets for the Blues' pick in second round this draft, and any later picks if one of these players remains on the board.
Presenting... The 2016 "St. Louis Game Time" SECOND SEVEN
...
Wade ALLISON
RANKINGS
Position
Right Wing
CSS Preliminary
N America N/R
Shoots
Right
CSS Midterm
N America 192
Height
6' 01.75"
CSS Final
N America 62
Weight
205 lbs
...
...
Born
Oct. 14, 1997
Birthplace
Myrtle, MB
SEASON
CLUB
GP
GL
AS
PT
+-
PM
PP
SH
GW
2015-16 Regular
Tri-City (USHL)
56
25
22
47
+ 16
46
4
2
6
2016 Playoff
Tri-City (USHL)
11
9
7
16
8
4
0
1
3
2016 WJC
Canada U18
0
0
0
0
0
0
0
0
0
SCOUTING NOTES
PLUS
MINUS
Strong power forward game
Overall skating needs improvement
Works best in tight spaces
Slow first step, acceleration
Strong rise in rankings as season progressed
Needs work on defense
PHOTO: SBNCOLLEGEHOCKEY.COM
...
Filip BERGLUND
RANKINGS
Position
Defense
CSS Preliminary
Europe N/R
Shoots
Right
CSS Midterm
Europe N/R
Height
6' 03.00"
CSS Final
Europe 33
Weight
209 lbs
...
...
Born
May 10, 1997
Birthplace
Skellefteå, SWE
SEASON
CLUB
GP
GL
AS
PT
+-
PM
PP
SH
GW
2015-16 Regular
Skellefteå Jr (SWE U20)
43
19
22
41
+ 8
6
12
1
3
2016 Playoff
Skellefteå Jr (SWE U20)
5
1
3
4
+ 5
8
1
0
0
2016 WJC
Sweden U18
0
0
0
0
0
0
0
0
0
SCOUTING NOTES
PLUS
MINUS
Size makes him good at puck protection
Lacks speed and acceleration
Great shot from point
Needs to keep improving on defense
Good passing skills
Could play a more physical style
PHOTO: SKELLEFTEAAIK.SE
...
Kasper BJORKQVIST
RANKINGS
Position
Right Wing
CSS Preliminary
Europe "C"
Shoots
Left
CSS Midterm
Europe 35
Height
6' 01.00"
CSS Final
Europe 22
Weight
198 lbs
...
...
Born
Jul. 10, 1997
Birthplace
Espoo, FIN
SEASON
CLUB
GP
GL
AS
PT
+-
PM
PP
SH
GW
2015-16 Regular
Blues Jr (FIN U20)
45
28
38
66
+ 5
32
11
0
0
2016 Playoff
Blues Jr (FIN U20)
2
1
1
2
0
2
0
0
0
2016 WJC
Finland U18
0
0
0
0
0
0
0
0
0
SCOUTING NOTES
PLUS
MINUS
Trunk strength; puck protection skills
Needs to improve finishing skills
Great shot from point on power play
Needs to be more consistent defensively
Solid power game
Improvement needed in overall skating
PHOTO: BLUES.FI/BLUES-NUORET
...
Cam DINEEN
RANKINGS
Position
Defense
CSS Preliminary
N America "C"
Shoots
Left
CSS Midterm
N America 117
Height
5' 11.00"
CSS Final
N America 39
Weight
183 lbs
...
...
Born
June 19, 1998
Birthplace
Toms River, NJ
SEASON
CLUB
GP
GL
AS
PT
+-
PM
PP
SH
GW
2015-16 Regular
North Bay (OHL)
63
13
46
59
+ 18
18
1
0
5
2016 Playoff
North Bay (OHL)
11
0
8
8
- 4
0
0
0
0
2015 Ivan Hlinka
USA U18
4
0
2
2
+ 3
2
0
0
0
SCOUTING NOTES
PLUS
MINUS
Two-way defenseman; plays in all situations
Undersized for defense position as a pro
Maintains, closes the gap on defense
Needs to keep getting stronger
Excellent on-ice awareness
PHOTO: BATTALIONHOCKEY.COM
...
Trent FREDERIC
RANKINGS
Position
Center
CSS Preliminary
N America "B"
Shoots
Left
CSS Midterm
N America 39
Height
6' 01.75"
CSS Final
N America 47
Weight
203 lbs
...
...
Born
Feb. 11, 1998
Birthplace
St. Louis, MO
SEASON
CLUB
GP
GL
AS
PT
+-
PM
PP
SH
GW
2015-16 Regular
USNTDP U-18 (USHL)
61
20
20
40
0
73
4
2
3
2016 Playoff
USNTDP U-18 (USHL)
0
0
0
0
0
0
0
0
0
2016 WJC
United States U18
7
4
3
7
+ 6
4
1
1
0
SCOUTING NOTES
PLUS
MINUS
Strong on forecheck
Skill level good, not elite
Strong two-way game
Footspeed needs improvement
Very good faceoff skills
PHOTO: BRIAN WEIDLER/STLOUISGAMETIME.COM
...
Cameron MORRISON
RANKINGS
Position
Left Wing
CSS Preliminary
N America "C"
Shoots
Left
CSS Midterm
N America 59
Height
6' 02.25"
CSS Final
N America 46
Weight
205 lbs
...
...
Born
Aug. 27, 1998
Birthplace
Aurora, ON
SEASON
CLUB
GP
GL
AS
PT
+-
PM
PP
SH
GW
2015-16 Regular
Youngstown (USHL)
60
34
32
66
+ 38
42
3
0
8
2016 Playoff
Youngstown (USHL)
0
0
0
0
0
0
0
0
0
2016 WJC
Canada U18
7
1
3
4
+ 5
0
0
0
0
SCOUTING NOTES
PLUS
MINUS
Size, shot, aggressive playing style
Skating needs improvement
Thinks the game at a high level
Needs to shoot more
Strong defensive zone awareness
PHOTO: YOUNGSTOWNPHANTOMS.COM
...
Aapeli RASANEN
RANKINGS
Position
Center
CSS Preliminary
Europe "C"
Shoots
Right
CSS Midterm
Europe 85
Height
6' 00.00"
CSS Final
Europe 21
Weight
196 lbs
...
...
Born
June 1, 1998
Birthplace
Tampere, FIN
SEASON
CLUB
GP
GL
AS
PT
+-
PM
PP
SH
GW
2015-16 Regular
Tappara Jr (FIN U20)
50
19
19
38
+ 17
26
4
2
0
2015-16 Regular
Tappara Jr (FIN U20)
3
1
0
1
- 1
0
0
0
0
2016 WJC
Finland U18
7
3
6
9
+ 8
12
1
1
1
SCOUTING NOTES
PLUS
MINUS
Hockey sense; understands the game
Physical game needs improvement
Strong two-way game
Needs to develop consistency
Puckhandling, playmaking skills
PHOTO: LEIJONAT.FI